7/20/2017 - CANCELLED EVENT FOR CORNHOLE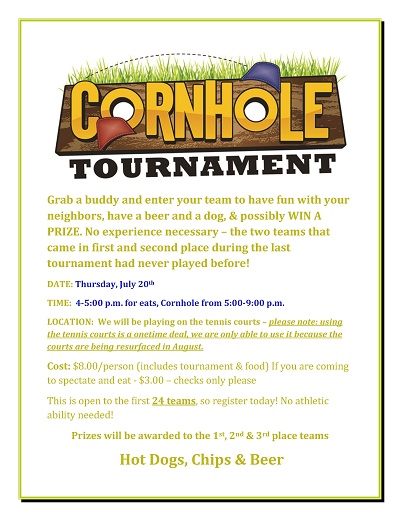 Time: 4:00 PM
Location: Tennis Courts Cornhole Tournament

One time only at the Tennis Center. Cornhole Tournament 4-5pm Hot dogs/Chips 8.00per person team and if not team person is $3.00 for Hot Dog Beverage checks only.... 5-9pm tournament 1 time only to do at Tennis Center. Prizes for 1st 2nd and 2rd Places




Click Here to add this event to your personal calendar.

Copyright ?1998-2018 AtHomeNet, Inc. All rights reserved.
Neighborhood Website by AtHomeNet